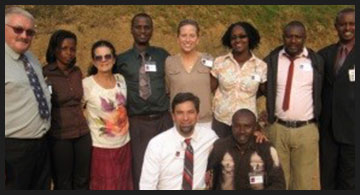 Spiritual Leader Training Program
The Spiritual Leader Training Program (for pastors who find themselves in prison) began in 2010, though the God-given vision that originated in 2008 with IRM founder/director Arlene Tatum. To date, phases of the program have been initiated in every prinson in Rwanda. The Kinyarwanda Discipleship Booklet, with additional lessons on Servant Leadership and Integrity comprised the materials for both one, two and three day trainings.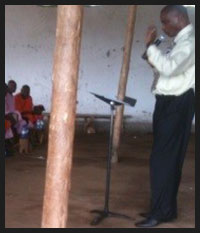 The Spiritual Leader Training teams are comprised of local Rwandan pastors as well as pastors and lay pastors from the visiting IRM team. The Rwandan village pastors that attend the trainings return to their designated prison once a month to encourage the prison pastors and spiritual leaders at that time they track the pastor's work within the prison, and turn in reports to IRM.
In 2013 a Men's Conference for the general men's prison population was added to the men's ministry.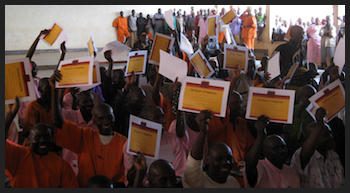 Prisoner Pastors expressed their views concerning the training they received saying "their conscience had been sharpened with regard to their holy calling. They were able to make a distinction between head-knowledge about Christ and receiving Christ Jesus in one's life and heart as Savior and Lord. That understanding was gained on how to carry on with ministry, aspects of team work, having proper knowledge of God's purpose for their lives while in prison and living for HIS glory in word and deed."
Wardens commented that what IRM is doing in the prisons is highly cherished and held dear in the prisoner's lives, having done much to shape the prisoners unity as they have been reconciled to God and to each other. They also noted that "IRM's biblical training materials are not denominational and you have brought together pastors and religious leaders in harmony and peaceful co-existence. This has never been done before in the prisons and it is exactly what the government is looking for, IRM's efforts will not go unnoticed."