Prison Ministry
On my first trip to Rwanda in 2005 while handing out gospel tracts in the capitol city, Kigali, I observed a prison crew of about forty men working alongside the road. I gave the tracts to the rifle carrying guards and at my request my interpreter asked the guards for permission to give tracts to the prisoners.
Although the guards gave me permission to hand out tracts they told me not to speak to them. Without further conversation while handing out the tracts the guard told me if I wanted to talk with the prisoners I needed to go to the Minister of Defense and get a permit and then I could go to the prison and speak to them. I asked the guard to ask the men if they wanted me to come to the prison and talk to them about Jesus, the prisoners responded "yes."
I realized the Lord was opening a very unusual door for me and although I was informed that it was very difficult to get government approval Pastor Elisee prepared the necessary paperwork. In 2006 the approval came for my first Rwandan prison crusade while 2013 brought IRM's first approval to enter Ugandan prisons. In 2016, prisons in Kenya and America are included as well.
Indeed, so far we have seen God open many doors as IRM has made 299 enterances to 159 different correction service facilities in Rwanda, Uganda, Kenya and America including facilities called TIG Camps. The Lord has allowed us to see Him speak into the hearts of thousands of men and women prisoners, bringing them to saving knowledge in Jesus Christ. With over 81 village and church crusades and one radio broadcast, I can only offer praise every time I hear them pray the "sinner's prayer." The last trip we witnessed God bring a total 25,425 Ugandans and Kenyans to salvation and since 2006 a total salvations from all outreach is 158,891 as well as a total for forgiveness, apologies and reconciliation of 180,703!
IRM appreciates each government who allows us to visit the Correction Service facilities and the commissioners we have the privilege to work with. We are thankful to the Wardens and Coordinators and to the Director of the Rehabilitation Center who graciously welcome us. Our appreciation also goes to Pastor Deo Gashagaza, Director of Prison Fellowship International Rwanda, whom we have also worked with.
The work that IRM does in the Great Lakes region of Africa would not be possible without the tireless and sacrificial efforts of the IRM partners there; Dr. Alfred Mupenzi, the IRM Rwanda Vice President and Legal Representative, Blessing Mupenzi, Peace Mugezi, Bishop Alexis Kadeli, Rev. Aaron Twagirayesu, Bishop John Kamazi, Bishop Joseph Michieka, and other volunteers too numerous to mention.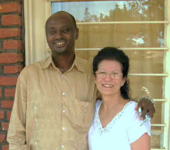 "I can not ignore at any single moment to thank God for enabling me to meet and work with Arlene Tatum, especially considering her fragile life and the risks in taking time to travel the big distance from America to Rwanda, Africa. Arlene's love for all the people of Rwanda and her heart for evangelism is evident as she ministers in the prisons of Rwanda and in other Rwandan communities. The prisoners who have received Bibles from her will never forget her because they have been granted human dignity. They have been helped to go from isolation and solitary confinement to having and sharing God's love and hope for the future. Being reconciled to God has opened the hearts of many to share their personal testimonies."